Puerto Rico 🇵🇷 Science Trust
Social Media Brand Identity
The social media brand identity design was created to maintain a cohesive and effective digital presence for diverse audiences within the same channel.
The organization have more than 16 distinct programs, categorized under four strategic pillars:
🧡 Research & Development
💛 Entrepreneurship
💙 Public Health
💚 Workforce Development
 This structuring presented an opportunity to streamline social media content. The challenge posed by having followers with diverse interests was tackled by color-coding the content for each strategic pillar (Hearts give a clue).
Involving the program director in the process enriched our understanding of the complex organization and research. Empathize with its core values was crucial in making decisions about how to communicate without disrupting internal processes or segmenting their audiences by creating new channels. What the brand needed most was to emphasize all its pillars collectively to enhance the main brand's awareness, officially named the Puerto Rico Science, Technology, and Research Trust.
Applications
: Graphic Design, Brand Identity, Social Media Content, Print Material, Adobe Illustrator, and Canva (Videos, GIFF).
1. Transform complex content into something easier to understand.
2. Manage multiple audiences within the same channel.
3. Identify with colors, eliminating the need for more channels
4. Enhance the organization's visibility, understanding, and positive impact.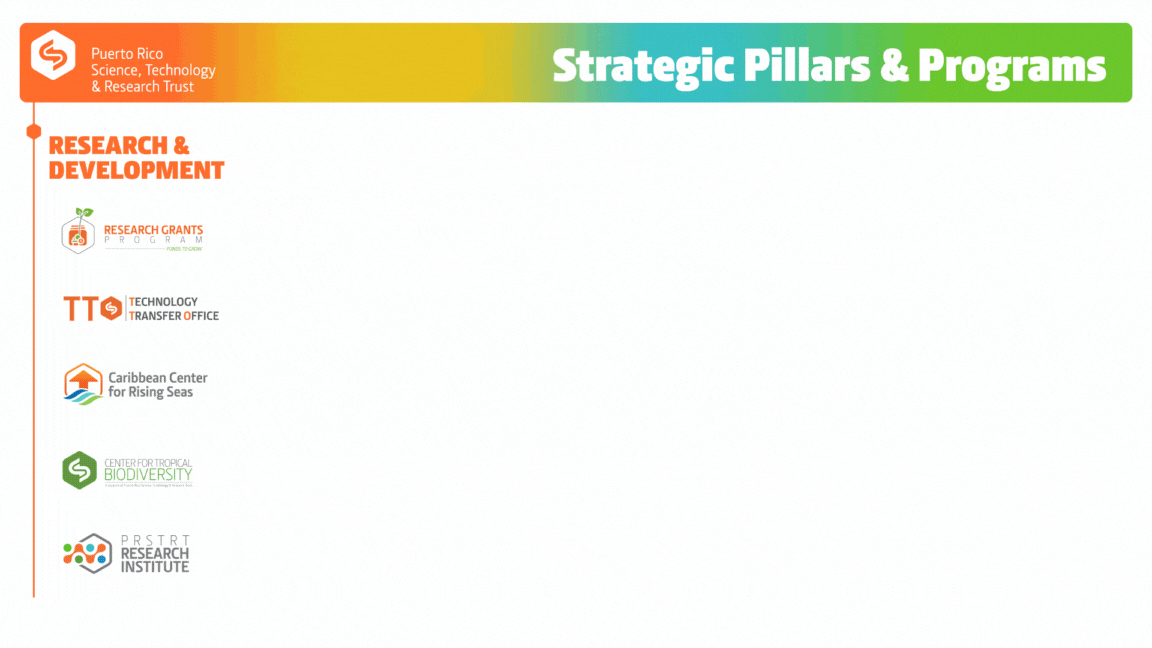 The tone adopted was both educational and friendly, aiming to unify a diverse audience within a single channel. We focused on ensuring all content resonated with the brand's mission, emphasizing the importance of science, technology, and research to Puerto Rico's well-being and areas like entrepreneurship and public health. The content was casual yet professional, primarily in Spanish, with translations based on the target audience's preference.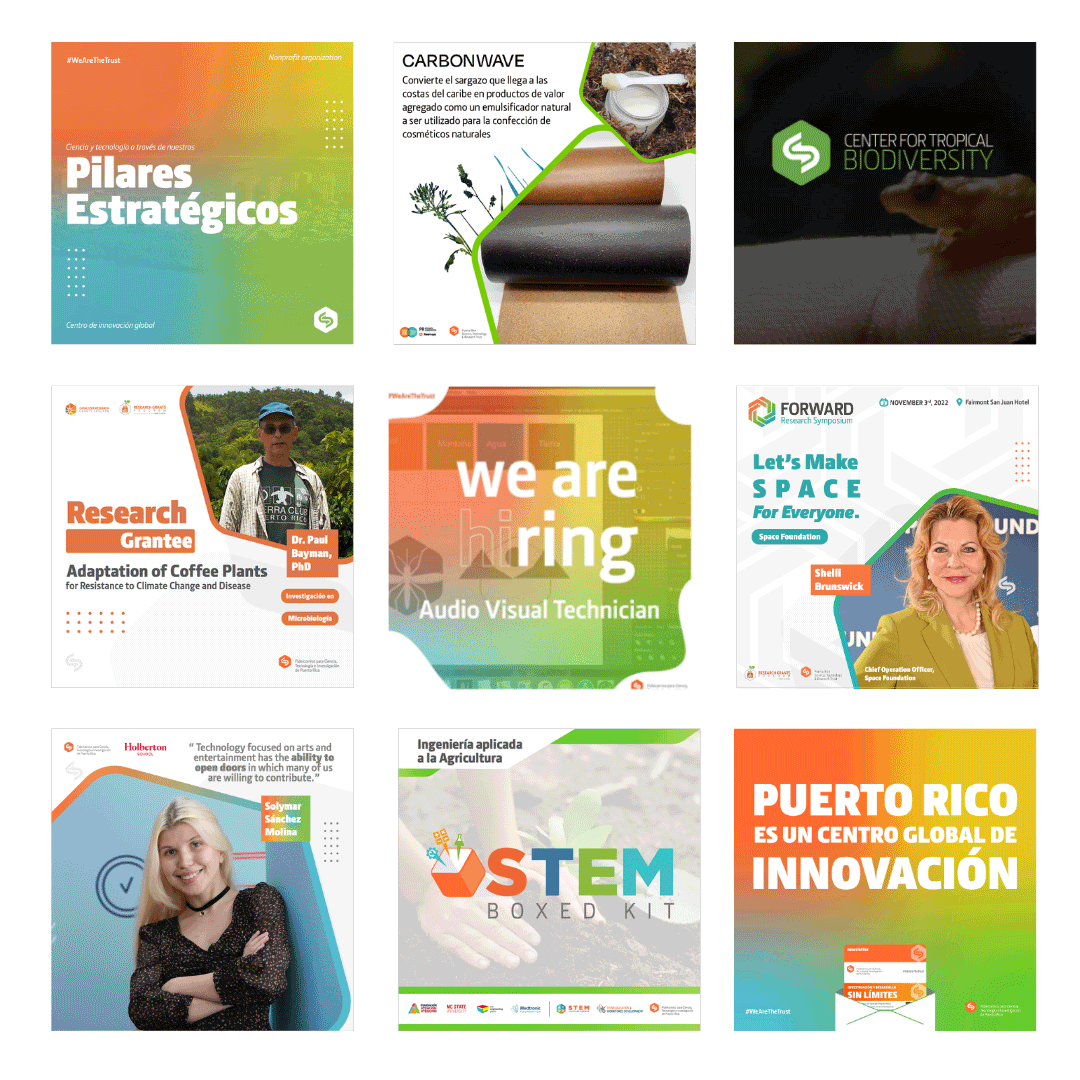 Making science and technology accessible to

all

.
The objective of this project was to develop graphic design solely for digital materials. But this change positively affected how people were talking about the brand, so we decided to move forward with printed layout templates. These layouts enable the creative team to create compelling and informative content. While collaborating, we maximize the impact of the department and further our mission of making science and technology accessible to all.
To be at the forefront of innovative and impactful social media strategies in the non-profit sector. We strive to create a vibrant and inclusive digital community that actively participates in and supports the Trust's mission. Through our strategic use of social media platforms, we aspire to inspire and empower individuals, organizations, and communities to drive positive change in science, technology, research, entrepreneurship, and public health in Puerto Rico and beyond.
- Migrate all program accounts to a single main organization account.
- Share content not only from the Trust, but also from our programs.
- Connect with the programs to showoff their initiatives and impact.
- Increase engagement with audiences in all active channels.
🧡 The Puerto Rico Science, Technology & Research Trust drives innovation and inspires hope. Our mission was to visually convey and advance the progress of the enchanted island: Puerto Rico. 🇵🇷